tampa
july 2015

camposaz transylvania



Tampa come combinazione spaziale di due strutture sviluppate in un processo organico di indagine sensoriale dell'ambiente e dialogo coi caratteri morfologici e le evocazioni paesaggistiche del territorio.





Il luogo di progetto, situato sopra la città di Brasov in Romania, è stato scelto per le sue potenzialità nel tentativo di avviare solidi processi di rigenerazione architettonica e sociale. Per questi motivi le istituzioni locali hanno acconsentito l'intervento in questo luogo di riserva naturale dalle considerevoli difficoltà logistiche.
Il gruppo internazionale composto da 12 partecipanti ha lavorato a stretto contatto per dieci giorni sul sito di progetto, intendendo il corpo e il lavoro manuale come strumenti di espressione.



Il processo prevede che la fase progettuale e quella realizzativa siano in simbiosi costante e procedano parallelamente e per gradi in modo da trovare soluzioni sempre più coerenti con il luogo.
Il gruppo di progettazione individua la specificità del luogo e indaga gli elementi primari dell'architettura.
Luce, aria e materia naturale donano forma e spazio all'architettura, geometrie semplici generano soluzioni ricche di versatilità spaziale e rapporti continui tra dentro e fuori, tra intimità e apertura in un dialogo ritmico con la natura circostante.




Il risultato è una struttura che invita a contemplare lo spazio circostante suggerendo diversi orizzonti possibili in modo da invitare il visitatore ad una riflessione più amplia per poi proseguire il cammino.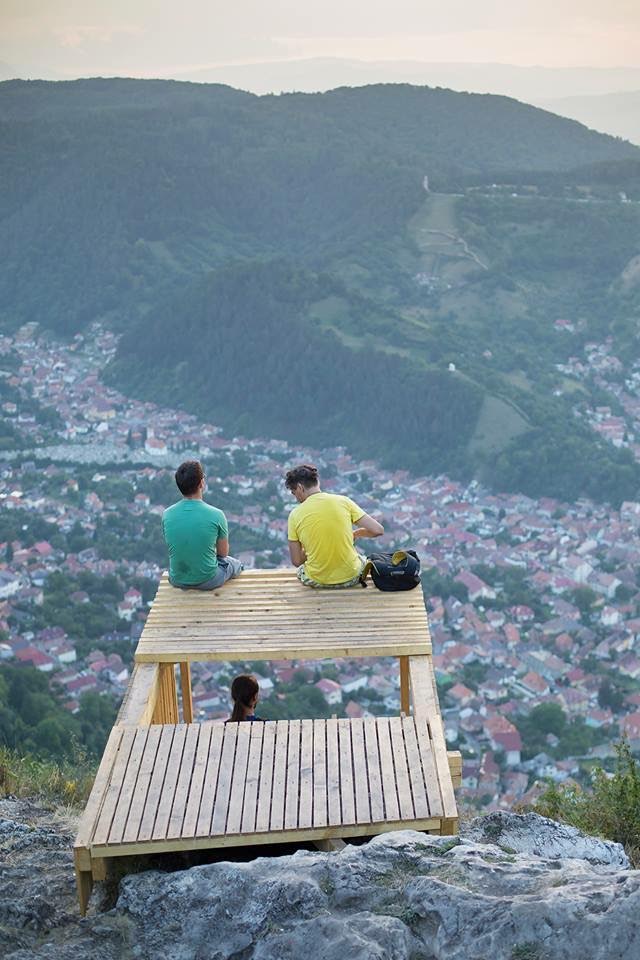 Tampa is a spatial combination of two structures developed in an organic process of sensory investigation for a dialog with the morphologic characteristics and the landscape insights.
The location, up the city of Brasov in Romania, was chosen for its potentiality in the intention of starting strong processes of architecture and social regeneration. For these reasons the local institutions allowed this experimentation project in this logistically hard location in the natural park of the region.
The international team of 12 participants worked with strong empathy for ten days on the project site considering the body and the manual work as tools of expression. The process consider the designing and the construction phases growing in symbiosis for finding more and more coherent adaptation to the place.
The team identify the specifics of the place and search the primeval elements of architecture. Light, air and natural substance give form and space to the architecture, simple geometries generate solutions rich of spatial versatility and continuity between inside and outside, between intimacy and opening in a rhythmic dialog with the surrounding nature.



The result is a structure that invites the contemplation of the space around and suggests different possible horizons for inviting the visitor to a larger reflection before continuing his path.




TEAM CORDINATOR:
Giovanni Wegher, Massimo Bertoluzza, Iulia Alexandra, Bogdan Barbu , Margherita Vitale.
TEAM STUDENT
Tatiana Levitskaya, Sinziana Macaveiu, Adina Cristina Costea, Oti Hrebenciuc, Sebastian Apostol, Marianna Landi , Florina Pop, Daniele Demattè, Cezar Cernea
SPECIAL THANKS
Gabriel Lenghel